In India, Andaman & Nicobar Islands are one of the perfect holiday destinations. Blessed with surreal landscapes and ethereal nature's beauty, this archipelago has been a favorite vacation destination for decades.
The white sands, the bottle green, and the azure waters of this gorgeous beach have made people fall in love with it. It is indeed true that nowhere in India can one find a pristine and scenic place which is quite apt for honeymoon Tour Package, family vacations, adventure tours as well as a rejuvenation holiday.
In short, Andaman & Nicobar Islands Tour Package are like a slice of heaven on earth. They are surrounded by serene and tranquil surroundings, world class resorts and a wide range of watersport activities that allure travellers with their beauty.
How do I get to Tour Package Andaman from Mumbai?
There are no direct flights from Mumbai to Andaman, connecting flights are available 24 hours a day. Direct flights run 2-3 times per week, sometimes it depends on the demand for travel.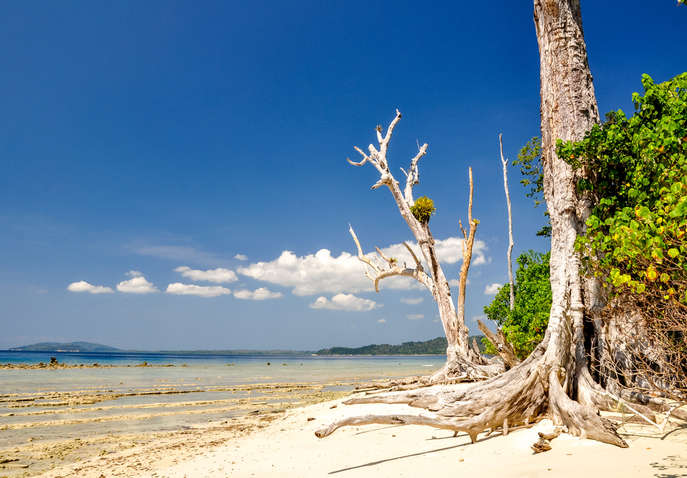 By Flights: The distance between Mumbai and Port Blair is around 2285 km, and direct flights are available 1-2 times during the season. Another way to get to Andaman is to fly from Mumbai to Port Blair via Chennai, around 2385 km. This is the most convenient way to travel for tourists because there are six to ten flights a day between Chennai and Andaman, and Mumbai to Chennai is well connected by air, roads, or railways as well. When it comes to Andaman Tour Packages from Mumbai, flights are the most popular method.
By Ship: As well as connecting Andaman and Nicobar islands Tour Package to the mainland parts of India, ships play a crucial role in the transportation of goods and services. It is not possible to travel directly to Andaman from Mumbai, but ships can be accessed from Chennai, Kolkata, and Vizag on the eastern coast. After arriving at these ports by train or air, one can then board the ship.
We recommend that tourists travel by plane because Mumbai is one of the busiest places in India, so most people do not have a lot of free time. Compared to a ship journey that takes 3-4 days to reach Andaman, we cannot even use our mobile phone or the Internet while on the ship. It is important to keep this in mind before planning a ship journey. To spend your time with your family and friends, a ship journey is definitely recommended if you have enough days.
By Train: Since Andaman islands are a group of islands with a distance of more than 1300 km from the mainland of India, there is no train service from Mumbai to them. It is best to travel to Port Blair by air from Mumbai. You can reach destinations such as Chennai or Kolkata by train, and there are many direct flights to Andaman Nicobar Islands every day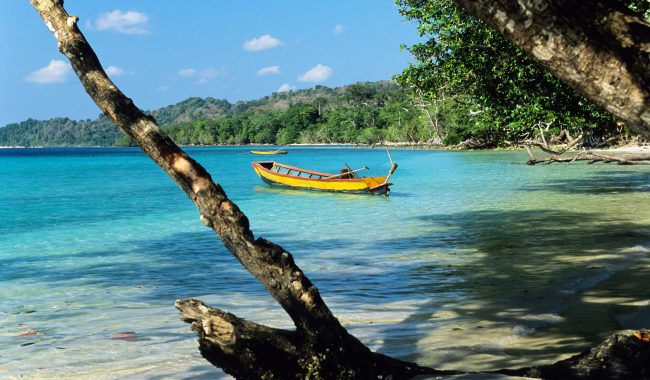 Here is an example of one of the best tour packages for Andaman Island from Mumbai:
We will have a representative waiting for you at the airport when you arrive.

Our representative will meet you upon arrival and take you to your pre-booked hotel in Port Blair, where you can relax and prepare for sightseeing.

As soon as lunch is over, we will wait outside the hotel to pick you up for your tour.

You can explore the history of the islands at the National Memorial Cellular Jail.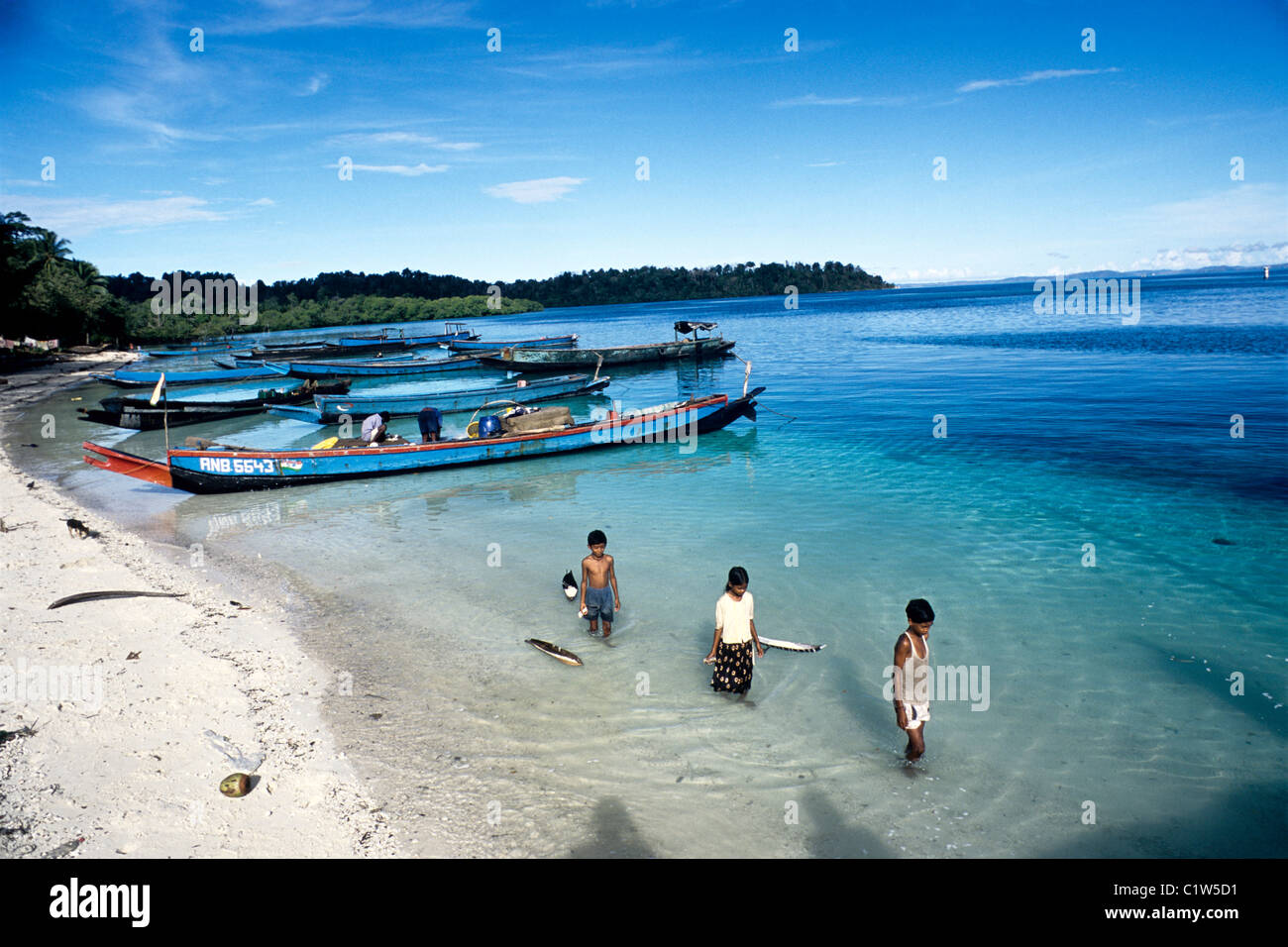 We will then drive to Corbyn's Cove Beach, which is located around 7 km from the Cellular Jail.

Try jet skies, sea karts, or other water sports like swimming or exploring the beach.

Approximately 6 p.m., we will proceed to the Cellular Jail for the Light & Sound Show. This program is usually in Hindi and English as per your request.

Our team will provide you with the ticket before entry to the light & sound show, which is included in your package cost.

We will pick you up from the show and take you to your hotel.

Enjoy dinner and a relaxing evening

Port Blair will be the location of the overnight stay.
FAQ'S
Ques : When should I visit Andaman and Nicobar?
Ans : A tour of the Andaman and Nicobar Islands is best booked between October and May, when the weather is pleasant and ideal for traveling. Andaman and Nicobar Islands tours should not be planned during the monsoon season.
During July, August, and September, there can be heavy rainfall in some parts of the islands, and the waves can also become unpredictable, which makes Andaman and Nicobar unsuitable for travel. As a result, you can choose one of Veena World's Andaman Nicobar Islands tour packages based on the time of year you wish to visit for a pleasurable trip. Book the Andaman and Nicobar Islands tour package that best suits your travel plans and find a range of options for all times of the year.
Ques : How much does a trip to Andaman and Nicobar cost?
Ans : A number of factors determine the cost of Andaman packages, including the length of your trip, the time of your visit, the hotel you choose, the number of people traveling, etc.
The price of Andaman and Nicobar packages is also different depending on whether or not they are a budget or luxury package. So, the overall cost depends on the Andaman and Nicobar package you choose, as well as your preferences and requirements. Check Veena World's Andaman and Nicobar holiday packages to get an idea of how much an Andaman and Nicobar vacation will cost.
Ques : Can I travel to Andaman without a passport?
Ans : Andaman family tour packages can be booked by Indians without a passport. Visit Veena World's 'travel documents and requirements' section for more information on Andaman and Nicobar packages.
You will be required to show an official ID at multiple places, including the airport, at hotel check-in, etc., when you book an Andaman and Nicobar Island package.